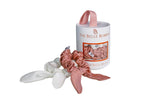 The Belle Bobbin is the ultimate hair care accessory!
Using 100% Mulberry Silk, this hair tie won't pull or tug on the hair, eliminating the risk of kinks, breakage and damage.  
The soft and smooth material allows for strong holding power, meaning your hair will stay in place without creating tension or irritation on the scalp and hair. 
The Belle Bobbin comes with a detachable bow to suit your personal style. Hair care has never looked so chic!
Contains 2 x Mulberry Silk Hair Ties
Shop Now