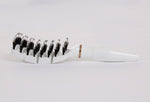 Introducing The Baby Belle! This professional three-in-one brush is perfect for hair extensions and is also a great detangling brush for children with sensitive scalps. Our flagship brush has been newly redesigned with a travel-friendly size and flexible brush head for even gentler detangling, styling, and blow drying than ever before. No longer will you have to buy several brushes to style your hair. The Baby Belle does it all.
The secret? Innovative design. Long, flexible nylon bristles glide through hair down to the roots without pulling or tugging, while short boar's head bristles polish the top surface and distribute natural oils down to the tip for shiny, healthy, frizz-free hair. The flexible brush head curves to the contours of your head for gentle yet effective detangling without scalp pain or wrist strain — perfect for quick, thorough brushing that gets every single hair down to the root without any pain or fuss. Large vents at the back of the brush allow maximum air flow when blow drying. This reduces heat damage while significantly cutting down your blow-dry time.
Maintaining your hair extensions has never been easier. Say goodbye to matted hair, painful brushing, hair fallout, or damaged extensions. Anyone who wears extensions or has scalp sensitivity issues will love this brush. Even psoriasis sufferers and parents of fussy children will finally breathe a sigh of relief with this brush by their side.
It's the same great brush as The Belle Brush Original, now in a smaller, more convenient size for travel. At just 22x5cm, it is the ideal travel hair brush to put in your handbag, car, or whenever you're on the go. Take this brush with you anywhere you go for beautiful hair, anytime.