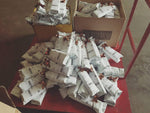 We're one month old!
The Belle Brush is one month old today, and we would like to start this post by thanking each and every one of you for your support. Whether you bought the brush, left a review or just had something nice to say, thank you so much. Your support means the world to us.
The feedback we have received since the first deliveries have gone through has been amazing. We worked so hard to create The Belle Brush and to see that our customers love it makes it worth the work.
Here's some reviews we've received since launching:
Thank you so much for your reviews. If you have purchased the brush, we would love to hear your honest feedback. Follow this link to leave a review on our Facebook page.
Thank you so much.